Tilt Banner – New Mobile Advertising Format From ClickAttack!
Thanks to continuous advancement of the mobile technologies, there are new opportunities for interaction with customers in mobile advertising. Interactive mobile advertising is not something new and our experience shows that interactive HTML5 mobile banners are more effective and engaging to customers.
Why ClickAttack is the best choice?
In our portfolio we already have good examples of mobile banner ads with different types of interaction: shake, tap, scratch, gamified and many others. This type of advertising provides brands with better engagement with users in a whole different way and expand the time that users spend with them.
What is a tilt banner?
Recently, we introduced new banner format i.e. interaction that can be used in mobile advertising – Tilt or Tilting into action. Tilt banners use accelerometers inside the smartphone that can sense user movement and acceleration. These banners create an entertaining experience for users and connection with a brand in a creative way.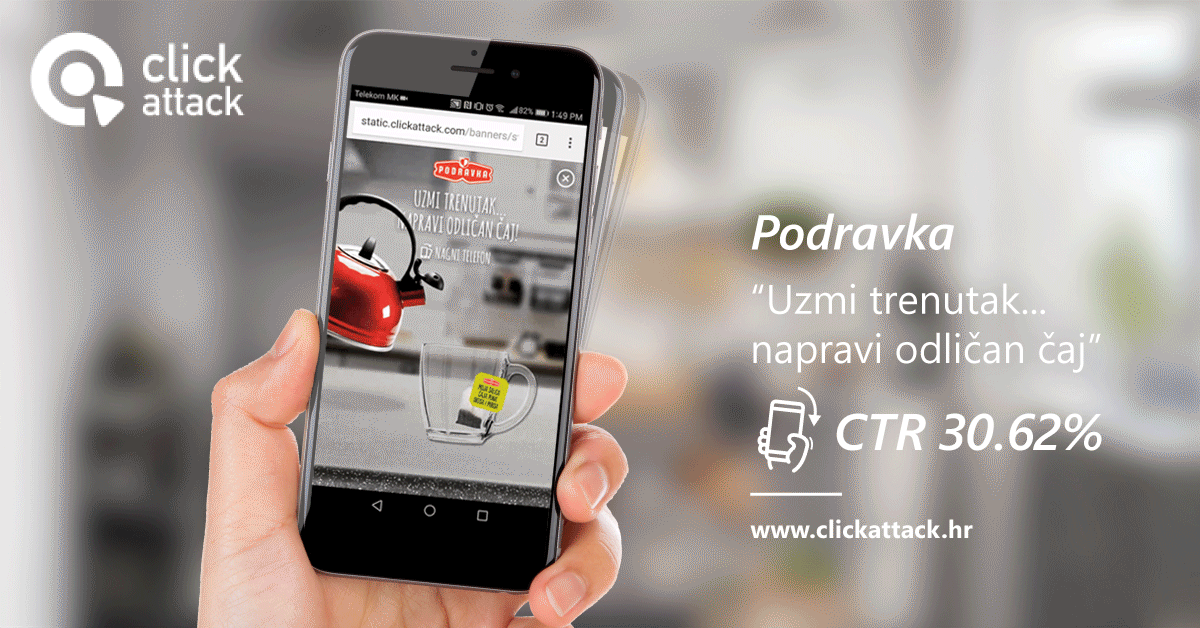 We want proudly to present that we already had few campaigns that included this new interaction in their overall marketing communication. One of them was the campaign Podravka Tea. The tilt interaction was used for better engagement with users in a way that users could simulate making tea just by tilting their phones and pouring water in a cup. The percentage of users who made interaction and poured the teapot is 30.62%, which makes this campaign a good example how mobile banners can make a realistic simulation of an action through interaction with the mobile device.
Tilt interaction offers more opportunities for creative mobile advertising, especially to develop gamified banners.
Experience the great results with tilt banners!
Mobile offers countless opportunities, and annoying static ads go slowly where their place is – in the past. Let us help you design an interesting mobile campaign with interactive ads that will raise your CTR to an impressive level and put a smile on your customer's faces. Contact us and see why we are the best. 🙂